You can watch the video below for a brief about the story, and read the post for all the details!
We all know that dogs are heroes, and they are just the heroes we need right now. We have seen before how much of help can dogs offer through times of crisis when they were right there on the front lines saving people after disasters like 9/11, and now, they are right back on the front lines again.
Wynn is a service dog that is still in training but he is already bringing joy and comfort to the medical staff on the front lines of the coronavirus fight in Denver.
Wynn is a beautiful 1-year-old lab that is serving up cuddles to health care workers and the medical staff who need them the most now during those tough times.
He is doing this for the medical staff and patients in the emergency room at Rose Medical Center in Denver.
Susan Ryan is Wynn's trainer, who is also an emergency physician at the hospital, and she has trained the dog to be comfortable around the emergency rooms and the tense environment of hospitals.
Ryan shared the image you can see below on Sunday.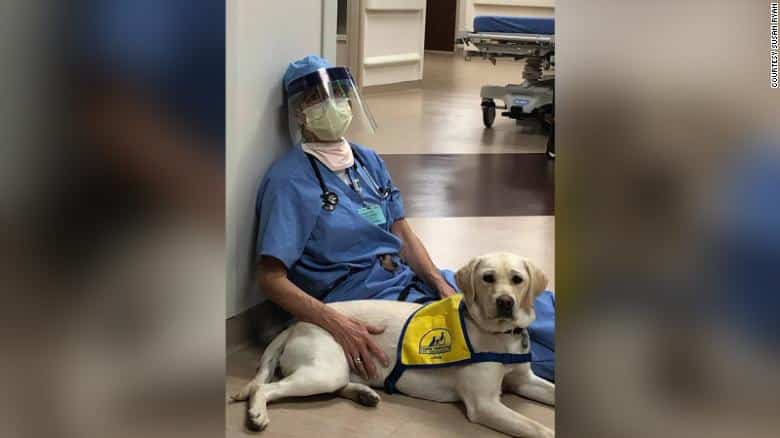 The photo shows the two of them sitting on the floor, taking a break from the apocalypse that is going on.
She told CNN:
"I saw Wynn coming back in from being walked outside. I just slumped down on the floor and said 'can I just have a minute with her'?
She had just been with a patient and she finished washing and desperately needed a break.
"Seeing stuff and hearing stuff that you can't unsee has an impact on you.

That's where the dogs come in. When you are in the presence of the dog and petting them you are taking a moment to ground yourself at that present time."
Wynn has been training since she was just 8 weeks old, and she is a very good girl indeed. She provides a glimmer of hope in those dark days for those in the front lines and helps them relieve some of the stress of fighting 24/7.
Of course, the medical staff takes good care to always wash their hands thoroughly before touching and petting Ryan.
Wynn will be under Ryan's care till she is about 18 to 22 months old, and then she'll move on to a professional training program at one of the organization's training centers.