Firefighters got a call about a 10-month-old German Shepherd named Maverick who have fallen in the ice near Drauden Road and Catherine Drive.
But before Firefighters arrived, a person saw Maverick and used his kayaker to reach the German Shepherd but couldn't reach him.
Then, when the firefighters arrived, one of them named Bill Cascone wore a water rescue suit, also known as Gumby suit, to reach Maverick by going into the water.
Bill managed to get a hold of the German Shepherd. However, they were stuck and couldn't get out.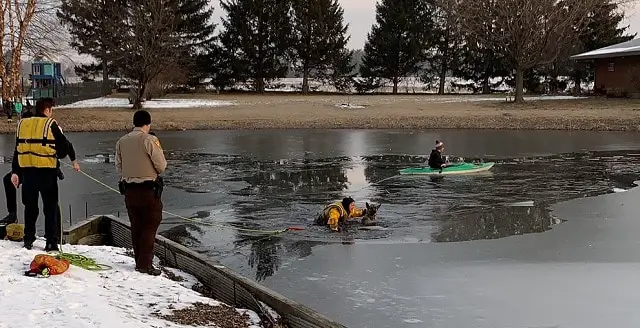 So, using a rope, Lt. Brian Stevens and firefighter/ paramedic Dennis House pulled them out of the icy water.
But, how was Maverick doing after being exposed to really icy water?