6

min read
How to become a dog groomer:

how to become a dog groomer, the pet groomer performs the necessary care for the hygiene, maintenance or fitness of pets and companions (shearing, brushing, bandages). He knows the peculiarities of each breed of dogs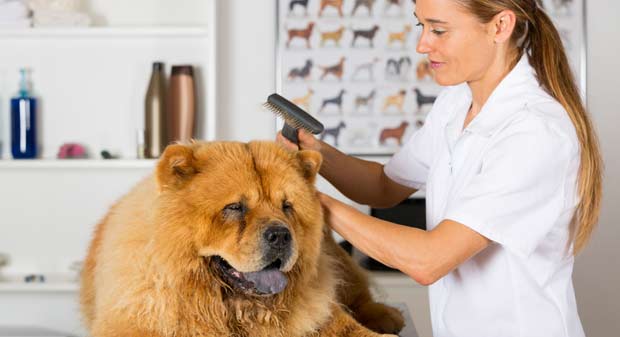 How to become a dog groomer:
The groomer for animals and especially for dogs, is responsible for performing aesthetic care and animal hygiene, without causing pain. It is a job that requires some investment when you are self-employed. Find out how to practice this profession.
The pet groomer can specialize in becoming a dog groomer / canine groomer. The groomer or maintenance technician canine H / F lavishes hygiene and aesthetic care of your companion (dog generally, cat also): mowing, washing, brushing, drying, cutting claws, cleaning ears … do not provide medical care as the veterinarian can. He also sells cosmetics and dog accessories in his grooming salon.
Dog grooming certification:
There are two possible paths:
The BNTC (National Certificate of Canine Grooming) is a state-approved V-level certificate. The training lasts 2 years and is aimed at young people from 16 to 25 years old with the level of 3rd. It can be carried out alternately: via apprenticeship or in a two-year qualification contract. Eight centers in France are authorized to issue this certificate, and are dependent on the National Union of Training Centers in Grooming.
Dog and Cat Groomer (CTM) certification, managed by the Permanent Assembly of Chambers of Trades and Crafts (APCMA), may be issued after training or work experience, provided that an examination (continuous examination and final tests).
How to become a professional dog groomer:
The animal groomer/pet groomer bathes, combs, shears and plucks pets (dogs and cats) of all breeds according to the standards in force or the desire of the customers.
It uses shampoos and antiparasitic or flea products adapted to each case. He ensures the cleanliness and hygiene of the equipment and the grooming salon. He also welcomes customers, prepares files and answers the phone.
⦁ The groomer also sells care and food products as well as accessories.
⦁ The groomer exercises in a grooming salon.
⦁ The profession of animal groomer requires robustness, good nervous balance, sympathy for animals, firmness and softness. Contraindication: allergy to hair.
⦁ The activity requires frequent standing and physical strength to carry, move or restrain animals. Schedules are regular. The groomer must respect the rules of hygiene and safety.
⦁ Wearing a professional garment is most often a necessity.
Dog grooming training:
Becoming a groomer requires a precise and framed course, which can take two forms.
The permanent assembly of chambers of trades and crafts can issue a dog and cat groomer certification after training or experience confirmed in a professional environment. To obtain it, it is necessary to pass an examination which relies on both continuous and final tests.
Dog grooming requirements:
⦁ To be patient: a good groomer must act calmly, gently and patiently with the animals he cares for. They must feel comfortable in his hands not to experience the grooming as torture.
⦁ Have a good physical shape: the profession of the groomer is a demanding job, which requires staying up much of the day, but also sometimes struggle with some animals, wear them, move them.
⦁ Perfect knowledge of the feline and canine breeds: a good groomer must perfectly master the different characteristics of breeds of dogs and cats, in order to be able to adapt his care according to each animal: morphologies, anatomy but also character traits have no secret for him. In fact, you can not groom the same way a Yorkshire terrier, a Poodle or an Afghan hound. He must also know the basics of dog language and the main health problems he may encounter during his exercise.
⦁ Skill: a good groomer must know how to use and master the grooming tools that he is required to handle during his work, especially sharp or blunt objects.
⦁ To have commercial sense: the groomer is constantly in contact with the owners of the animals entrusted to him; it's a relationship job. To have the sense of the contact and to be sociable is thus necessary, in particular if it is established on its account, as well as the commercial fiber; he must indeed make additional sales with the products offered by his salon and customer loyalty
professional groomer
The profession of groomer is a job that requires patience with animals and benevolence to avoid any care that can make them suffer.
We must also have the commercial sense to sell ancillary products, welcome and retain customers. The groomer must also be creative to offer fashionable cuts and / or original that will appeal to the masters of their "clientele" 4-legged. The groomer must know the peculiarities of each breed of dogs and cats, and know the technical gestures of grooming to avoid injuring the animal, even when it is agitated. He works most of the time.
become a dog groomer mission
The groomer, or technician of the canine maintenance, is in charge of the hygiene and the esthetics of the dogs without making them suffer. He cannot, however, provide medical care as a veterinarian would.
⦁ Ensure the beauty of the dog
He is thus led to mow, wash, dry, comb and brush the coat of the animal, whether for the pleasure of his owner or to prepare him to compete for example at trade shows; in the latter case, he must respect strict aesthetic concepts. His job leads him to handle shampoos, flea and antiparasitic products. He chooses a cut that emphasizes the animal, having in this respect know how to be creative.
⦁ Ensure good dog hygiene
The groomer is also responsible for hair removal too long, cut the claws of the dog and clean his ears, but also to rid it of impurities and external parasites. It has as such a preventive action with animals: it checks that it is in good hygienic condition and must be able to see any anomalies during the grooming. But in no case can he replace a veterinarian: he cannot treat cuts, abscesses or bleeding
pet groomer Career developments
With experience and a good address book, the dog groomer can create his own grooming salon.
He can also specialize in grooming at home, especially in semi-urban areas or in rural areas.
Where does the groomer work?
Once trained, a groomer can work in all establishments that care for animals:
⦁ Animal clinics
⦁ Veterinary practices
⦁ The grooming salons
⦁ Home
Attention: to enter a dog grooming school, it is absolutely necessary to have signed a professionalization contract with a groomer in the activity. The apprenticeship is indeed obligatory for this type of trade because it is a work that one can learn only by exercising!